Ductless Heat Pump Installation in Greater Astoria and the North Coast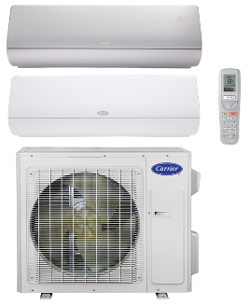 Infinity® Residential Ductless Highwall Heat Pump System - 38/40GRQInfinity® series products represent the pinnacle of our communicating technology. This advanced system enables some of the best comfort features and energy saving advancements.
Enjoy greater comfort & lower energy bills without the need for ductwork
Do you wish your house had central air conditioning? Are you building an addition or converting an attic or porch into living space? Do you live in an older house with beautiful period details but an outdated HVAC system?
If you answered "yes" to any of these questions, mini-split heat pump technology could be the perfect solution to your HVAC problems.
A mini-split heat pump provides forced-air heating and cooling, but without the use of ductwork. For this reason, these units are also referred to as ductless heat pumps or ductless mini-splits.
Here at P&L Johnson Mechanical, Inc, we install innovative ductless heat pump systems from leading manufacturers.
Call us or contact us online to request a quote!
Benefits of a mini split heat pump system
No ductwork required.
Installation flexibility. Compact air handler units can be mounted on wall or ceiling.
Heating & cooling. Most mini-split units are designed to provide air conditioning and heating.
Extremely efficient. Industry-leading ENERGY STAR®models are rated above 20 SEER; some models are as high as 26 SEER.
Easy & precise control. Battery-operated handsets enable you to adjust temperature, fan speed and other settings by remote control.
Speedy, hassle-free installation. A mini-split system can be completely installed in a day, with minimum disruption to interior spaces.
Easy installation, exceptional efficiency
A conventional forced-air system relies on a bulky ductwork system to distribute heated or cooled air throughout the living space. It can be difficult and expensive to retrofit large ductwork in an existing house. That's why ductless heat pumps are a cost-effective solution for retrofit applications. Ductless mini-split heat pumps also eliminate problems caused by ducts that leak or lack sufficient insulation.
If you want to enjoy long-term savings on heating and air conditioning, make sure to consider installing a mini-split system. Unlike older heat pumps, the latest mini-split systems can provide efficient heat even in subfreezing temperatures. Today's ENERGY STAR® mini-splits are more than twice as efficient as older heat pumps.
We provide repair and installation services for a wide range of heating systems to fit your needs.
Get a quote for a ductless heat pump system
Call today to schedule a consultation or fill out our simple online form to request an estimate for installing a mini-split heat pump. Learn how this advanced heat pump technology can make your home more comfortable while cutting your heating and cooling costs.